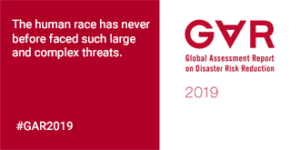 The latest report from the United Nations Office for Disaster Risk Reduction (UNDRR) has highlighted what is describes as the increased complexity of threats to human life and property.
The UN's Global Assessment Report 2019 has identified climate change and environmental degradation as two of the major factors contributing to increased risks, which the report states are ''emerging in a way that we may not have anticipated''.
The report outlines the potential for 370 million people to be impacted by declining crop yields if global warming is not contained, with the resulting food insecurity leading to increased levels of displacement and migration.
State investment in risk reduction strategies and sustainable planning are two of the measures encouraged by the UNDRR to combat threats to human life and property.
The biennial report provides the first update from countries on progress towards the Sendai Framework for Disaster Relief Reduction 2015-2030, concluding with the warning that ''if we continue living in this way, engaging with each other and the planet in the way we do, then our very survival is in doubt.''
The full report is available at https://gar.unisdr.org/