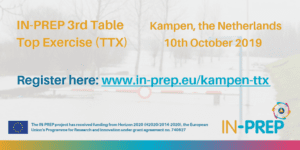 On the 10th October 2019, IN-PREP's 3rd TTX (Table Top Exercise) will take place in Kampen, the Netherlands.
Participants will have the opportunity to see IN-PREP's Mixed Reality Preparedness Platform (MRPP) in action during a collaborative response training exercise which will bring together civil protection agencies, police, emergency services and fire brigades from across Europe.
The scenario of the 3rd TTX is that of a flooding incident in the Dutch city of Kampen caused by a considerable downpour in the catchment area of the Rhine river over the preceding two weeks. This unexpected rainfall had led to an increased discharge of the river compounded by strengthening winds, putting the city of Kampen at risk of large-scale flooding.
This follows on from two previous successful TTXs in Spoleto and Savona, Italy.
During the 3rd TTX participants will be challenged to plan, train and collaborate on a multi-agency and transboundary level using IN-PREP's MRPP to ensure an effective response to the potential flooding incident and an efficient allocation of resources on behalf of the responding agencies.
This will mark the final TTX of the IN-PREP project before full-scale Demonstrations begin to take place from December 2019. The 3rd TTX is an opportunity for civil protection practitioners to test their response plans, collaborate with other agencies and train using the latest technologies in crisis management.
IN-PREP's success depends heavily on active engagement of the civil protection community. Therefore, if you are interested in joining the TTX as a participant or observer please register your interest online at the following link: https://www.in-prep.eu/kampen-ttx/.