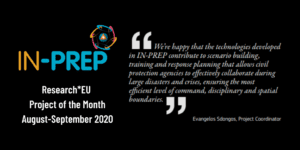 IN-PREP Project of the Month
The IN-PREP Project has been highlighted as Project of the Month in Research*EU Magazine
IN-PREP has been selected as the prestigious Project of the Month by Research*EU Magazine which is published by the European Commission's Community Research and Development Information Service (CORDIS) office.
The piece highlights the objectives of IN-PREP in enabling emergency services to respond more effectively to disasters and crises and mentions the development of IN-PREP's Mixed Reality Preparedness Platform (MRPP), IN-PREP's Cross-Border Handbook of Preparedness and Response Planning and the upcoming final two full-scale exercises (FSXs) of the project which will take place later in 2020.
To see the Project of the Month article highlighting IN-PREP click here and to read the August-September edition of Research*EU in full click here.