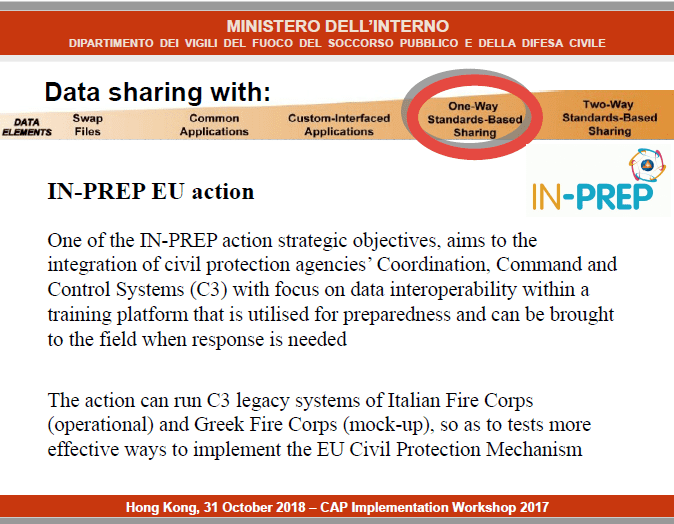 "Marcello Marzoli explained that since 2011 the Italian National Fire Corps (CNVVF) has had an interoperability policy based on CAP.
The CNVVF operational data sharing initiative has progressed since then, with an increasing number of rescue authority and stakeholders sharing operational data. The operational data shared deals primarily with incidents and activities concerning: Floods, Extreme weather, Forest Fires, Fires and explosions, Gas leakages, and various Civil Protection emergencies. Among the partners in these data sharing agreements across Italy are: Comune Venezia, Carabinieri (National Police), Città metropolitana di Venezia (Provincial Authority), and the Ministero dei Beni Culturali (Cultural Heritage Authority). There are also agreements with several drainage authorities: Consorzio Bonifica Veneto Orientale, Consorzio Bonifica Piave, Consorzio Bonifica Acque Risorgive, and Consorzio Venezia Nuova. The Consorzio Venezia Nuova agreement includes the MOSE gates that safeguard Venice and its lagoon. There has also been an interoperability effort focused on the sharing of GIS data based on CAP, specific to daily rescue activities. The targets were two distinct geographic information system platforms: GEOSDI and ESRI. Marcello Marzoli also noted extensively about the various ways in which Italy is helping with CAP – related interoperability activities focused on improving the implementation of the European Union Civil Protection Mechanism, through the EU IN-PREP innovation action in particular." 
Watch the presentation at the CAP workshop and read the CAP Implementation Report
The excerpt above is taken from the CAP programme.