Project coordinator Dr Angelos Amditis, Research Director at ICCS, initiated the kick off meeting in Athens, Greece. The meeting room was packed with partners  from civil protection, system development, information technology, ethics & data protection, social sciences and communication as well as crisis management experts and AR &VR specialists.
Evangelos Sdongos responsible for the day-to-day coordination of the project said:
"The project will create novel tools and training to optimise preparedness and collaborative planning.
Inter-organisational response capacity will be upgraded for transboundary crises. We would like to warmly invite civil protection agencies  to take part in IN-PREP training programmes and validate our approach."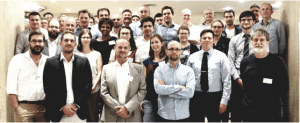 IN-PREP partners are ICCS (Coordinator), Crisisplan, Airbus, DLR, Diginext,Vigili del Fuoco, EXUS, Satways Ltd, Fraunhofer, SAMU Paris, University of Greenwich FSEG, Trilateral Research Ltd, CARR Communications, IES Consulting, Deutsche Hochschule der Polizei, Safety Region IJsselland, Dimos Rodou, AIR Worldwide Limited, Police Service of Northern Ireland, Health Service Executive Ireland.
20 partners from 7 countries and 7 partners from civil protection agencies.